0 Comments
Monday, June 24, 2013
| by
admin
If anyone were to ask (and sadly nobody does) what were my fav fashion icons, Gwen Stefani would definitely be one of them. She is always perfectly done in her clothes, accessories, hair and makeup. I bet that girl could even make jogging in sweats look fab.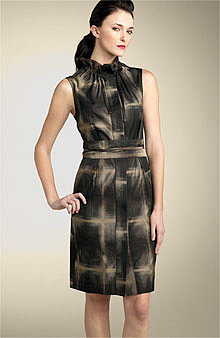 L.A.M.B Taffeta Dress
I also like that she wears a lot of the items in her line - it's not a requirement that designer wear only their designs, but it's definitely a good endorsement! Though most items from LAMB are beyond my financial means, this great Taffeta dress in Plaid Taffeta is somewhat obtainable for me.
This is a great dress for fall when paired with some no-nonsense black leather boots and a hot trench. I also lust for how this dress makes such a boring plaid print interesting with the drawstring collar and cumberband style tie. What do you think - buy or bleh?
Labels: Fashion